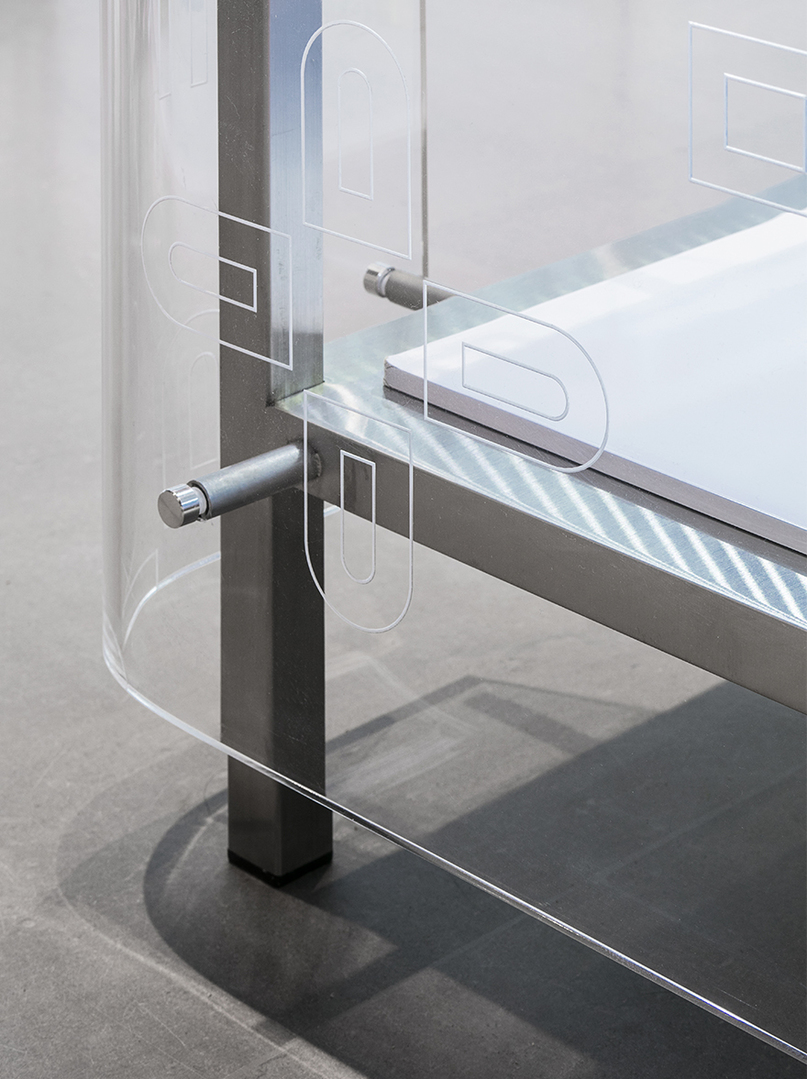 Dr.Jart+ Hyundai Dutyfree store
Location : Hyundai department store
Client : Have&be
Completed : 2018.11
Concept : Inside out
Photo : Yongjoon choi
Inside Out
'겉과 속을 뒤집어 감춰진 안팎의 아름다움을 표현하다.'
닥터자르트라는 브랜드를 가깝고 깊게 들여다 봤을 때 외적인 면에서는 열정과 감성이 공존하는 미래 지향적인 비전을 가진, 내적으로는 지성과 이성의 집합체로 신뢰성 있는 기술력의 노하우를 가진 브랜드다. 우리는 이러한 닥터자르트 만의 외적인 장점들과 내적인 아름다움을 함께 표현하기 위해 '인사이드 아웃' 이라는 컨셉을 가지고 공간의 스토리를 전개했다. 투명한 특성을 가진 마감재로 유리블럭을 사용하여 깨끗한 이미지를 연상하고, 내부로 투과되는 빛, 시선 등을 조화롭게 공간에 스며들게 하였다. 골조로 사용되는 금속 파이프와 마감재들을 적극적으로 활용하여, 내면을 드러내고, 외면 또한 조화롭게 표현하는 것을 목표로 하였다. 리뉴얼 전의 닥터자르트는 전체적으로 스테인리스를 사용해 차갑고 도시적인 느낌을 가지고 있었다면, 이번 프로젝트에서는 스테인리스금속을 줄이고, 자연적인 소재로 석재, 유리블록, 벽장의 텐션 패브릭을 통해 따뜻한 느낌을 주려 하였다.
Inside Out
"Express beauty on the inside and out by revealing what was hidden on the inside."
"When taking a close look at the Dr. Jart brand,you will find that it has a future-oriented vision where passion and sensitivity coexist on the outside.On the inside, it has intellect and logic combined to create a brand that wins trust through its technical know-how. We presented a story about space under the subtitled of "inside out" to express such external advantages and the internal beauty that are the exclusive domain of Dr. Jart.Glass blocks and a finish with transparent properties were used to harmoniously instill a clean image,let in the light, and create a focal point. Metal pipes and finish were generously used in the framework with the goal of revealing what is on the inside,and harmoniously expressing the outside. Prior to the renewal, at Dr. Jart, stainless steel was used all over creating a cold feel. Now, we have reduced the use of stainless steel and intended to give a warm feel through natural stone, glass blocks and tension fabric closets.